Day 6..
Hari ni dah balik..nothing much to cite...
wake up early and catch bus at 6.30am...smpi kat epot kul 7.30am cam tu..trus cek in..but there's incident skit time ni..just to share what to do if something like this happen k..
One of rombongan cik kiah ni tetinggal handphone dlm bas..T____T..aigooo..
member tu dah panik gaban...ok if things like this happen try to calm down and find solution.
Memandangkan Airport Incheon dan aku ni kadang2 tak dpt dipisahkan dengan kejadian2 cam ni..makanye aku dah insyallah boleh prepare nak wat ape..
1. Try to find dulu barang2 yg ilang tu sbb mane tau teselit selit tak nampak lam beg ke or lam poket baju ke or terbagi kat kawan soh simpan ke?
2. If dah cari2 x jumpe gak then baru la pegi kat kaunter information yg blambak dlm epot tuh..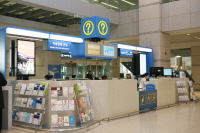 but 1st, try to remember rupe barang yg ilang tu, kaler ape, dlm ade ape, jenama ape, and paling penting bus yg kita naik tu pukul brape dr tmpt station kita tunggu tu..lagi bagus kali kita ingat no bus tuh..
3. All detail dah ade baru gi kat kaunter and ckp kat dorang kita kehilangan barang and bagi detail...insyallah dorang akan cuba call dan dapatkan barang tu. So far dorang sgt2 effisien..trust me...alhamdulilah..handphone kawan den tu jumpe balik....drive bus simpan kan...x smpi setengah jam ilang dah dpt balik...weeeeeeeeeeeeeee....bagus kan..
so papepun kejadiannye..always becareful and be ready ...expect the unexpected...
so tu la serba sedikit cite sal trip aku yg ke 11 ke korea...trip byk rombongan seramai 12 org SUCCESS..sekian~~~