Ok, macam my previous entry, GDA award is getting near...Ada yg dah beli tiket ke?? mesti korang tgh pening pale nak pikir bajet yg bakal terbang kan??
Those whose willing to spend than go on....bior menyesal beli jangan menyesal tak beli...hehe..
Wooooo!! another list of confirm attend for GDA dah kuar...mmg sgt

DAEBAK

ok yg datang nnti..wajib la semua org pasang khemah kat KLIA and SEPANG nnti...thehehee...anyway, Kpop hunter confirm akan berpaparazi merata nih...puhuhuhu...the biggest even ever kat Malaysia. Tahniah Malaysia ye sbb tepilih as a place to hold this event..clap!clap!clap!!
Tengok muka MC for GDA pun dah nganga ni kan tgk list attendees..hahhaa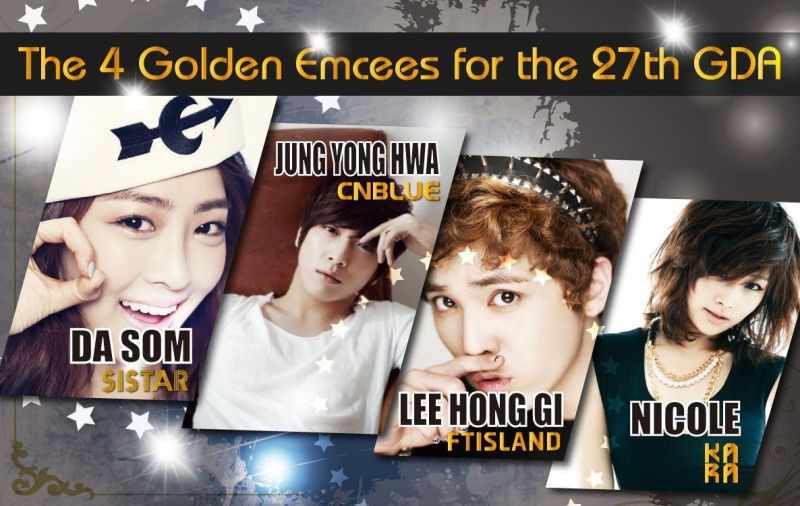 Seriously the organizer really really need a

HUGE

security, Fans are welcome from all over the countries coz ticket also open to other countries...imagine that~~ welcome!welcome to Malaysia yorobun!
Here goes list of attendees yg confirm akan dtg GDA award nnti ye.
INFINITE
K WILL
SECRET
SISTAR
B.A.P
BIA4
BEAST
F(X)
JUNIEL
TEEN TOP
SHINEE
CN BLUE
FT ISLAND
T-ARA
SUPER JUNIOR
EPIK HIGH
G-DRAGON
LEE HA YI
AILEE
KARA
EXO-K
HYUNA
Ni blum final nih..akan ade lagi list2 retis yg bakal datang..adess~~ sakit jantung tengok list ni sbb dah bleh bayangkan betapa crowded tahap tenuknye nnti kaw. sepang tuh..sedangkan Super Junior datang pun Airport dah huru hara..bayangkan kalo semua artis sensasi ni turun Malaysia. Aigo!! cannot imagine..unless you are fully prepared mental and physical baik la jgn dekat kawasan2 ni ye pada yg saje suka2 nak jenguk ke..you might end up stuck 3 to 4 hours in heavy traffic jam..
yg baru nak cuba memaparazi..EXPECT THE UNEXPECTED ye..anything can happen...
lagi satu dengan terpasangnye AES merata alam ni makanye makin kaya la org2 ni mengutip saman2 kete dek sbb ramai yg merempit retis2 koya ni..ahahahahhaha...hardly can't imagine this..hopefully I can make some coverage on this..it's gonna be an

AMAZING EVENT

and also AMAZING RACE for all the fans!! All the best.