wohoho..it's wayyyyyyyyyyyyyyyyyyyyyyyyy tooooo longgggg nak update kan! nak wat lagu mane dah bizi sokmo..suddenly teringat nak update..k la..k la..meh hapdet skit..but seriously dah lost memory k..so meh abiskan trus arr part ni ye.---> continue from previous entry ye..
Next day, pagi2 lagi kami dah siap2 nak kuar sbb still ade masa lagi before send kete ke KT Kumho so Incik PIC decide tuk tanye kat kaunter ghouse mane je kami bleh pegi tuk habiskan masa...so aweks kaunter kate bleh la gi jalan2 kat tepi pantai nun ha...nama pe tah pantai tu aku pun tak tau..so kami start enjin and say bye bye to Yeha Guesthouse. Panjang umur jumpe lagi ye --> YEHA GUESTHOUSE JEJU TERMINAL. This guesthouse recommended to those yg sewa kete kut sbb cam senang nak jalan2 kat area2 situ and some more ade parking free. But nearby restaurant agak susah skit nak cari makanan cam seafood..ke sbb kami malas nak cari??. Kami blasah makan ape yg kami bwk je..nak jimat kekdahnye.
Jalan punye jalan ikut map, nampak le landmark tmpt cam kat map tu.. Turtle lighthouse gamaknye namanye, sbb ade patung turtle tuh..hehe...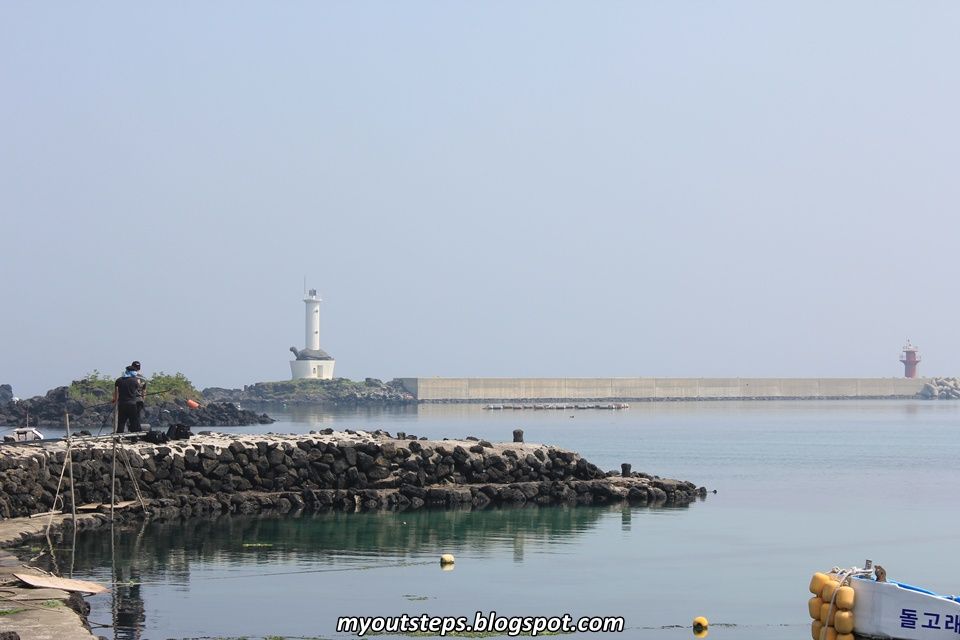 Lepaking jap kat tepi pantai ni, ade la 2,3 org ajushi yg tgh dok memancing kat situ dok tenung2 tapi biase le buat dek ala2 foreignerkan..hehhee..so catch a few snap.
Ade ikan melompat lompat riang gembira kat sini..kemain lagi ye mementang xde manusia nak mengail sgt kat situ..tapi dr kejauhan nmpk la burung2 terbang riang sbb nampak ikan loncat2 gamaknye.
not much to see kat sini, but sangat tenang..kut nak bejiwang karat lepak2 sini sambil pandang ke langit bleh la dtg ye..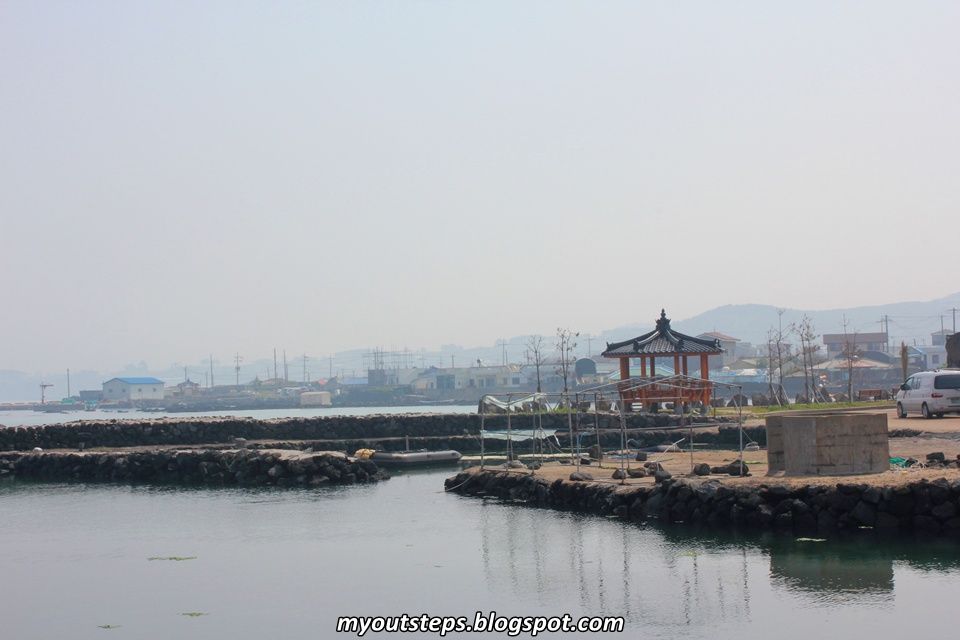 ade gak dorang sidai2 bawang kat tepi laut tuh..atas jalan je kekdahnye..uhuu..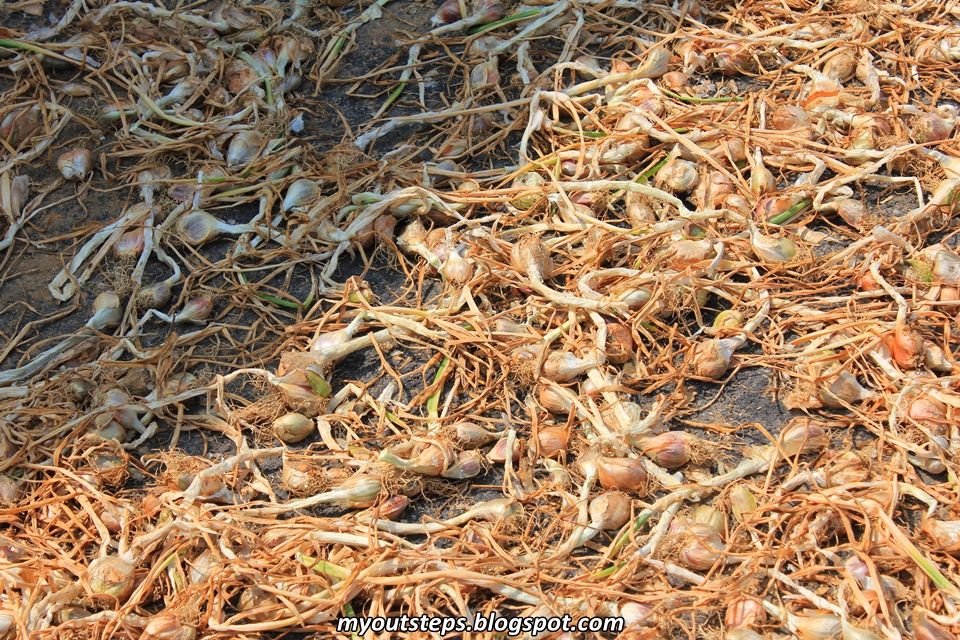 Partner posing maut skit, tah mane dptnye kail tu tah?
Dah posing maut, pastu start enjin, set GPS and balik le ke KT Kumho. Oh! tak silap aku KT Kumho ni bukak kul 8 pagi ye so bukan 24 hour so pandai2 la decide nak beli tiket flight kul bape ye..Proses pemulangan kete sgt cepat, anto kete, bagi GPS pastu blah. Dorang tak cek pun, maybe sbb secure dgn kedit kad so papehal dorang deduct dr situ je. So kami pun tggu la bas tuk anto balik ke epot. Ade disediakan bus tuk bawak kita ke epot semula ek..pree je.
Balik kami naik Easter Jet plak. Not bad la..some more murah lagi dr Jeju Air.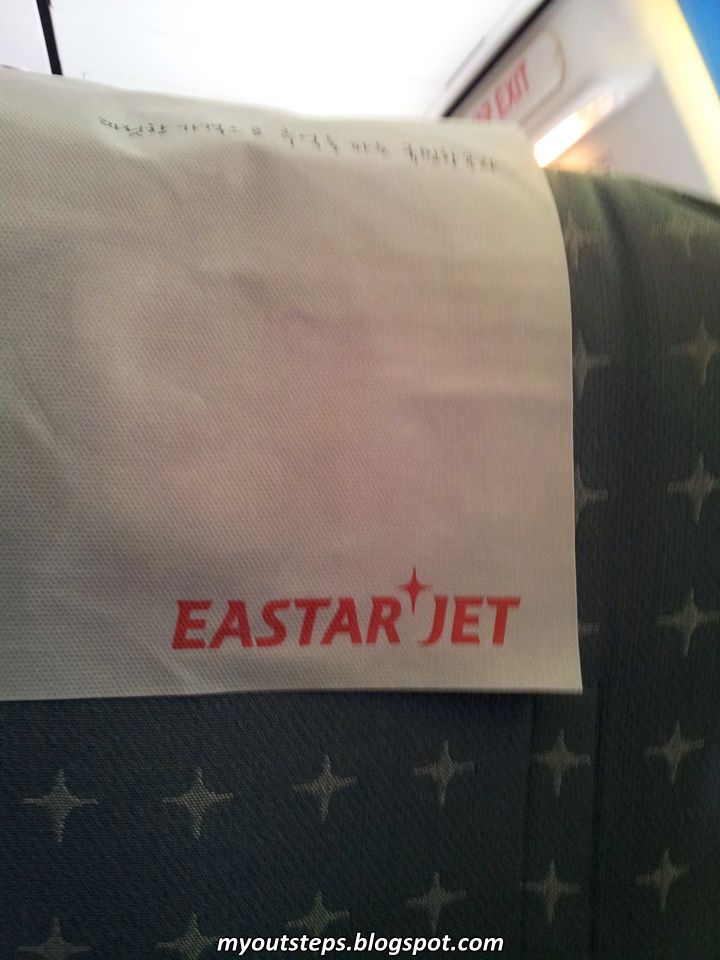 Abg pramugara lam tu giler tinggi, kepala kene ejas skit sbb tinggi beno..hehe..
betolak kul 12.40tghari and smpi Gimpo kul 1.45ptg.
Da smpi situ trus la gi ke Seoul. Dok kat guesthouse pilihan hati, mane lagi kalo tak kat Girls Generation Guesthouse, amik bus 6015 and stop la kat Best Western Kukdo Hotel ye..by de way Incik PIC dok kat H20 Guesthouse nearby, so far review katenye x bape nak ok le ..huhuhu...tak jauh dr situ la..lepak2 jap rehat pastu malam tu decide tuk pi makan kat Sindang.
Now now, talking about this area plak..sini famous dgn Sindang teokbukki. K tanak ckp byk, those who would like to try or gatai2 nak cuba makanan korea just bare in mind yg anda sekarang berada di NEGARA KOREA yakni non muslim country. If you don't dare to try any of those food and rasa was was sila jangan menggatalkand diri untuk cuba just because org lain ade review and cuba. Find restoran yang HALAL and eat or duduk hotel diam2 makan meggi buatan Malaysia. Faham?
Menu yg diorder telah difilter oleh ajuma kedai, no pork, no ham, no bacon, no meat or any thing yg related to meat or bahan2 yg dikategorikan haram. Insyallah yg penting kita yakin. ape yg ade hanyalah sayur n kuih beras..hemm...
Ohh gambo xdok sbb kebulur, makan je..pastu blah..hehe...
Next day lak, patutnye kami ade plan beso tapi memandangkan udoh telambat smpi makanye kami di'tinggalkan' oleh train itew..ohhhh sadisnye..sib baik dpt refund balik tiket..wakkakaka..makanye disitu telah menandakan yg aku bakal ripit lagi tuk menjadikan impian tu kenyataan..huk~

than kemana je ek kami pastu? tak silap aku kami pi ke Hello Kitty Cafe dekat Hongdae nun..
demi mengotakan impian INCIK PIC..ekekekkeke...hokey la..not bad la girly cafe nih...dok lepak2 snap pica..pastu blah..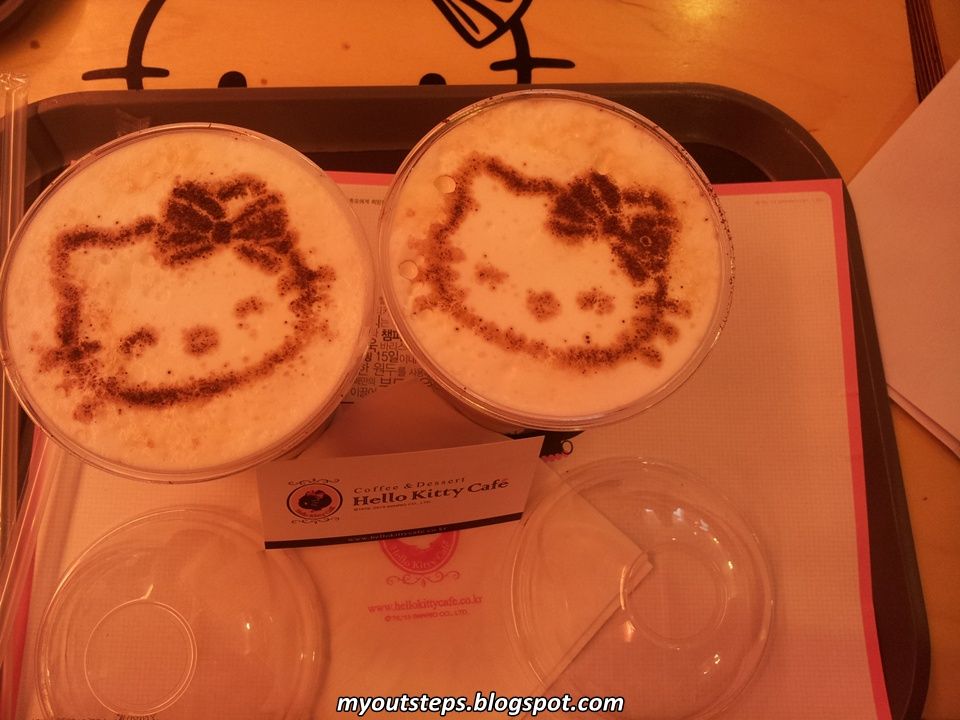 awwwwww...dah x ingat la pastu gi mane..but overall this trip was fun..especially dekat JEJU..akhirnye impian tercapai nak gi sana...hehe..Repeat JEJU?? maybe lambat lagi kut..hehe..
mari la kita menTAMAT kan trip ke 12 ni ye...
see ya~~~~ THE END